Educational Opportunities
June 24, 2014
Because the Annual Refrigeration Update and Trade Show is temporarily suspended (due to the high cost of travel, time off, etc. for the participants), the Board will begin offering educational opportunities on this website. Please check back often for more links and/or videos.

The first website we would like to share is GreenChill, an EPA partnership with food retailers to reduce refrigerant emissions and decrease their impact on the ozone layer and climate change. The following video is an example of the information available at the site.
GreenChill works to help food retailers transition to environmentally friendlier refrigerants, lower refrigerant charge sizes and eliminate leaks, and adopt green refrigeration technologies and best environmental practices. Be sure to take advantage of their educational information and to check back here for more!
---
Board Member Retires
June 16, 2014
The board would like to give a huge thank you to Tim Welch for his many years of service. Mr. Welch was instrumental in the revamping of the Contractor's exam in the Board's efforts to reduce the number of reference books required for the exam while also keeping the cost down for applicants.
Board Chairman Jerry King (right) presents past board member Tim Welch with a certificate of appreciation.
---
2014 Scholarship Awards
June 2, 2014
The members of the State Board of Refrigeration Examiners are delighted to announce the winners of the 2014 SBRE Scholarships. Thirty Students enrolled in either an Associate Applied Science Degree Program of study in HVAC/R or an Associate Applied Science Degree Program of study in commercial refrigeration applied for a SBRE scholarship. After all points were totaled and additional criteria factored in, scholarships were awarded to Lamarco Monte Ellis, Wilson Community College; Patrick Nelson King Sr., Wilson Community College; Michael Stanton Little, Richmond Community College; David Martinez, South Piedmont Community College; and Reginald Perry, Wilson Community College. Since the inception of the scholarship program over $30,000 has been awarded to students in the NC Community college system!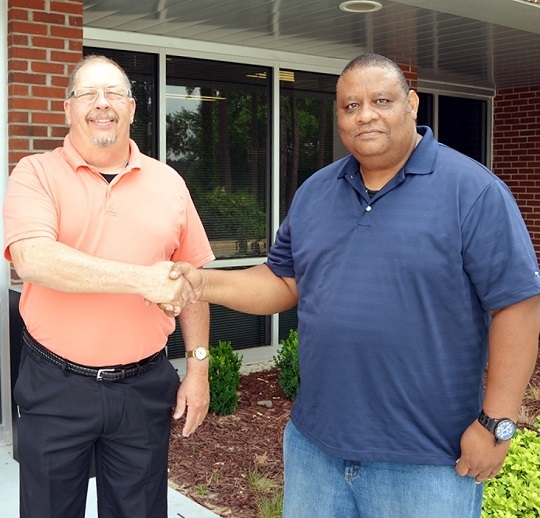 Board member William Frye (left) congratulates Michael Little on his scholarship award.
SBRE scholarships are available to persons enrolled in or interested in enrolling in an Associate in Applied Science Degree Program of study in HVAC/R, or those interested in enrolling in or enrolled in an Associate in Applied Degree Program of study in commercial refrigeration.
Applicants must meet the following criteria to qualify for a scholarship:

1. Be a resident of NC;
2. Be enrolled (or intend to enroll) in an Associate in Applied Science Degree of Study in Commercial Refrigeration or HVAC/R Technology;
3. Maintain a grade point average at or above the level required for graduation;
4. Continue for the duration of the scholarship at the college where he or she was enrolled at the time of the scholarship award.

Two or more scholarships are awarded annually depending on available funds. Scholarship applications are due in the Board office by April 15 of each year. If you would like to apply for the SBRE Scholarship, complete and mail in your Scholarship Application.
---
Refrigeration Up-date 2013
May 29, 2013
The board would like to give a big thanks to all who attended Refrigeration Up-Date 2013 in Wilmington!

We would also like to thank the speakers who did an outstanding job informing our contractors on the ice machine industry and the use of glide refrigerants:

- Bill Litchy, Tech Service Manager, Scotsman Ice Machines
- Paul Sullivan, Tech Services, Honeywell Genetron Refrigerants
And we can never thank our exhibitors enough. These companies make it possible to offer the show and seminars at no cost to the attendee:
EXHIBITORS

ACR Supply Co.
Airgas
Ammonia Refrigeration Program, Sampson Community College
Baker Distributing
Bally Refrigerated Boxes
Bitzer, USA
Cannon Marketing, Inc.
C. C. Dickson Co.
Dynatemp International
Empire Marketing Group
Engineering Equipment Sales
E. V. Dunbar Company
Frank Door Co.
Heatcraft Refrigeration Products LLC
Hill Phoenix
hilmor
Honeywell
Johnson Controls
Johnstone Supply
Linzmaier and Associates, Inc.
Machine & Welding Supply
McCall's Inc., Southeast
MidSouth Marketing
Rectorseal Corporation
Spectronics Corporation
Parker Hannifan - Sporlan
Steve Lee and Associates
The Flora Group
Triad One
Tuttle Co.
United Components
United Refrigeration
---
Continuing Education Rules Delayed
October 27th, 2011
Pursuant to Governor Beverly Purdue's Executive Order No. 70 which states, in part, "Rules shall not impose undue burdens upon those persons or entities who must comply with those rules", and in view of the current economic climate, the Board members at their last meeting voted to disapprove the proposed continuing education rules.
---